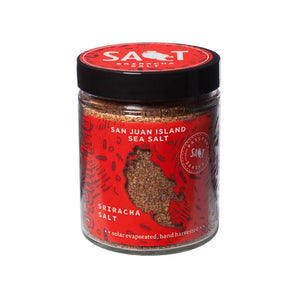 A perfect synergy of all the key flavors in the classic Thai sauce: salty, sweet, sour, spicy, garlicky.
Inspired By: Love of the famous condiment that has been a staple in our pantry for years.
Tastes Like: Medium-hot spice, dash of sour, pinch of sweet. Try it On: Turkey sandwich, cucumber salad, quesadillas.
Ingredients: San Juan Island Sea Salt, red jalapeno powder (chili powder, silicon dioxide), citric acid, organic garlic, organic sugar, organic rice powder (anticaking). Net wt: 3.75oz in glass jar.